Stichting Hunger and Thirst zoekt naar non-farmacologische oplossingen voor reuk- en smaakveranderingen bij oncologische patiënten. Naast gezonde voeding, de mogelijkheid om te kunnen genieten van eten, is uitermate belangrijk. Het niet kunnen genieten van eten, mede door smaakveranderingen bij kanker en door kankerbehandeling, heeft een negatief effect op de kwaliteit van leven. Bij gemiddeld 55 – 75% van alle mensen die behandeld worden voor kanker, is er sprake van een tijdelijke of blijvende reuk- en/of smaakverandering die optreed als bijwerking van de medicijnen. Hierdoor verdwijnt ook het plezier in eten en de dagelijkse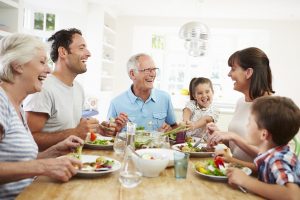 maaltijden kunnen een teleurstelling worden.
Om het plezier van gezamenlijk eten voor hun omgeving niet te beïnvloeden, vermijdt men vaak te melden last te hebben van een reuk- en of smaakverandering. Patiënten voelen zich schuldig en denken dat het mogelijk als 'ondankbaar' wordt ervaren wanneer men aangeeft dat het eten 'vies' smaakt terwijl de ander (de partner) met liefde en zorg een maaltijd heeft bereid.
Stichting HungerNdThirst en de afdeling Humane Voeding van Wageningen University hebben onderzoek gedaan naar reuk- en smaakveranderingen bij kankerpatiënten en de invloed hiervan op eetgedrag. De resultaten van dit onderzoek zijn hier te lezen.  Naar aanleiding van het onderzoek werden vier factsheets opgesteld: voor artsen, verpleegkundigen, diëtisten en de patiënt zelf. Deze factsheets bevatten informatie over reuk- en smaakveranderingen en praktisch tips en adviezen.

Smaakstoornissen die bij kanker kunnen voorkomen zijn:
Ageusie: de onmogelijkheid om smaken te herkennen en totaal smaakverlies
Hypogeusie: een verminderde smaak
Dysgeusie: een storing in het gewaarworden van smaak, zoals een zout, ranzig of metaalachtige smaak.