When:
February 4, 2018
all-day
Europe/Amsterdam Timezone
2018-02-04T00:00:00+01:00
2018-02-05T00:00:00+01:00
Contact:
HungerNdThirst Foundation
+3120 223 7502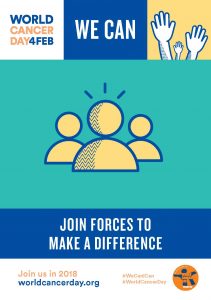 Today is World Cancer Day. We dream of the day that the world can be cancer free.
HungerNdThirst Foundation appreciates your support in helping us find solutions for taste alteration caused by cancer and cancer treatment. If you would like to make a donation, click here.