When:
April 19, 2018 @ 2:00 pm – 8:00 pm
Europe/Amsterdam Timezone
2018-04-19T14:00:00+02:00
2018-04-19T20:00:00+02:00
Where:
OLVG Locatie Oost
Oosterpark 9
1091 AC Amsterdam
Netherlands

Contact:
Janny van der Klooster
020 5108317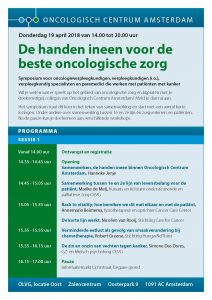 Donderdag 19 april 2018 van 14.00 tot 20.00 uur
De handen ineen voor de beste oncologische zorg
Symposium voor oncologieverpleegkundigen, verpleegkundigen (i.o.), verpleegkundig specialisten en paramedici die werken met patiënten met kanker.
Wil je weten wat er speelt op het gebied van oncologische zorg én bijpraten met je (toekomstige) collega's van Oncologisch Centrum Amsterdam? Meld je dan nú aan.
Het symposium staat dit keer in het teken van samenwerking en start met een aantal korte lezingen. Onder andere over samenwerking tussen 1e en 2e lijn én zorgverleners en patiënten. Na de pauze kun je deelnemen aan verschillende workshops.
PROGRAMMA
SESSIE 1
Vanaf 14.00 uur Ontvangst en registratie
14.35 – 14.45 Opening
Samenwerken, de handen ineen binnen Oncologisch Centrum Amsterdam, Hanneke Jenje
14.45 – 15.05 Samenwerking tussen 1e en 2e lijn van levensbelang voor de patiënt, Marike de Meij, huisarts en lid team ondersteunende en palliatieve zorg OLVG
15.05 – 15.35 Back to vitality; hoe bereiken we dit met elkaar en met de patiënt,
Annemarie Beintema, fysiotherapeut en oprichter Cancer Care Center
De korte lijn werkt, Nicolien van Rooij, Stichting Care for Cancer
15.35 – 15.55 Verminderde eetlust als gevolg van smaakverandering bij chemotherapie, Robert Greene, Stichting HungerNdThirst
15.55 – 16.15 De zin en onzin van vechten tegen kanker, Simone Das Dores, GZ- en klinisch psycholoog OLVG
16.15 – 17.00 Pauze Informatiemarkt Lichtstraat, begane grond
SESSIE 2
17.00 – 17.45 Workshopronde 1
1. Advanced care planning in de palliatieve zorg, Peter Kunst, longarts OLVG
2. Voeding en kanker: feiten en fabels, Merel van Veen, diëtist en
voedingswetenschapper IKNL en Anika Adriaans, diëtist Wereld
Kanker Onderzoek Fonds
3. Verantwoordelijkheden bij 'de patiënt in the lead': informed
consent, autonomie, vertegenwoordigersschap, Paul Vleugels,
trainer ethiek OLVG
17.45 – 18.30 Buffet
18.30 – 19.15 Workshopronde 2
1. Hoe ga ik als verpleegkundige om met hoop en wanhoop van
de patiënt, Eline Aukema, psycholoog en Hanneli Lantink,
psycholoog Ingeborg Douwes Centrum
2. Informatiebehoefte van patiënten met een Turkse of
Marokkaanse achtergrond, Barbara Schouten, universitair docent
UvA, communicatiewetenschap
3. Samen met patiënten de zorg verbeteren, Samyra Keus,
projectleider Value Based Healthcare OLVG
19.15 – 19.30 Pauze
19.30 – 20.00 Plenaire afsluiting
Nia dans, Pauline van der Lee, change facilitator & vitality coach
20.00  Borrel in de foyer
Per ronde kun je een 1 workshop bijwonen.
Voorkeur workshops kun je in het aanmeldformulier aangeven.
Accreditatie
Accreditatie wordt aangevraagd voor verpleegkundigen, oncologieverpleegkundigen en verpleegkundig specialisten.
Aanmelden (vóór 1 april 2018)
Via aanmeldformulier
OLVG-medewerkers via het Leerportaal
Kosten (te betalen vóór 1 april 2018)
Professionals: € 50
Studenten: € 25
OLVG- en BovenIJ-medewerkers: gratis
Rekeningnummer: NL28 ABNA 0232 5141 00 t.n.v. OLVG, o.v.v. kenmerk 24 – 8361200 – 05167 symposium
Meer informatie
Janny van der Klooster, telefoon 020 5108317
E-mail j.vanderklooster@olvg.nl